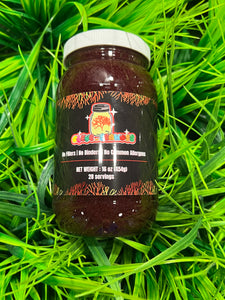 All I can say is Yum!!
The taste of the elderberry sea moss is sooo good omg I think I ate more than 2 tbps a day it was that amazing and I'm a texture eater so that says a lot!! I normally just put in my smoothies but after I tasted it I just couldn't put it in the blender lol
Needs some honey
This is great for your immune system. I personally think it needs some raw local honey added to it. While everyone around is getting sick, our Family has remained healthy. I have 3 adopted Little People with Pitt-Hopkins Syndrome and they seem much more alert & focused. Since I started giving them sea moss.
Delicious
This Seamoss was so delicious. It kinda reminded of grape jelly with a hint of ginger. My spouse was recently sick with the flu and I did not get sick. Seamoss period is a game changer.
Stuck with me!
Happy to have finally found a dependable and trustworthy seamoss provider. Definitely quality in a quantity filled market. Thank you for doing great biz and truly appreciating your customers as well as taking pride in what you do.
Seamoss gel
After trying too many seamoss gel suppliers from online and some found on social media, I believe I've found the one I can stick with. Customer service and speed of delivery are important to me. The pride taken in thei business and quality as well as quality of customer service is unmatched. I greatly appreciate this business. If a business or company doesn't care about their business or how they are viewed by a consumer, I won't do further business with them and will give an honest review. I've reordered and see and fell the pride each time and I appreciate this greatly.