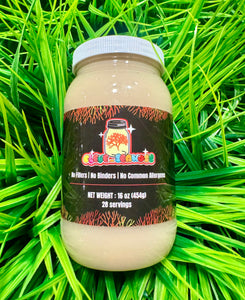 CRYBABY!!!
EARLIER THIS YEAR, MY DOWNSTAIRS NEIGHBOR GOT DIAGNOSED WITH STAGE4 LUNG CANCER...
NEEDLESS TO SAY, WE WERE SCARED BEYOND BELIEF. I HAD PREVIOUSLY ORDERED OTHER FLAVORS OF THE SMOOTH AND TASTY SEA MOSS GEL AND HAD SHARED IT WITH MY NEIGHBOR BUT, AFTER THE DIAGNOSIS, I ORDERED THE SOURSOP INFUSED SEA MOSS FOR HER AND INCREDIBLY, HER MASSES STARTED TO DIMINISH IN SIZE!!!
UPON HEARING THE GUD NEWS, I THINK IT WUD BE FAIR TO SAY, WE DEHYDRATED OURSELVES, WE CRIED SO MANY TEARS OF JOY!!!!
WE DEFINITELY APPRECIATE U FOR BEING IN THE BUSINESS OF SAVING LIVES!!!!!
😘😘😘
A1
Everything came like it was supposed to and sour soup did exactly what I expected it to do. Next is the elderberry and burdock root.
One of my favorites!
Tasted delicious, never had soursop before but it kinda taste like pears but less sweet would 10/10 recommend.
Soursop Seamoss
I love the SourSop Seamoss and was first introduced to this fruit and flavor from Kelly the Owner here. I love it! The taste is similar to a Plum/Pear/slight cherry combo. This will be a staple purchase whenever I buy from this store.
Great for beginners
I love the taste. I have purchased this one twice