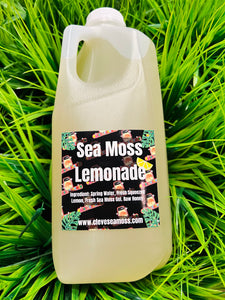 I like this lemonade a lot, you can't tell it's been made with sea moss. It is a little too sweet for me but that's just me. I just add a little bit of water and it tastes great.
Lemonade 🍋 Sea Moss
Lemonade Seamoss 🍋 is a refreshing drink that gives your body everything your body needs on the healthy side. A1 delicious 😋
The Seamoss Lemonade is definitely my go lemonade. I absolutely love it that's why I bought two half gallon and definitely going back to buy more because it's healthy and refreshing for you. I say try out the Seamoss Lemonade and see what you think I bet you would like it.
Seamoss Lemonade
Absolutely Delicious.. Refreshing.. Something different.. We loved it
🙌🏽🙌🏽🙌🏽🙌🏽
The lemonade is 🔥🔥🔥🔥 my boyfriend and I are in love with it!!