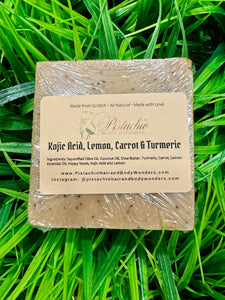 Kojic Acid, Lemon, Carrot and Turmeric Soap Bar | Hyperpigmentation | Acne | Glow |
Regular price
Sale price
$11.00
---
Kojic acid has antifungal and antimicrobial properties, which can be help reduce the intensity of breakouts and any resulting post-inflammatory hyperpigmentation. As an antioxidant, kojic acid can help skin cells reverse the harmful effects of UV rays, pollution, and oxidative stress. Kojic acid inhibits and prevents the formation of tyrosine, which is an amino acid that's needed to produce melanin. Melanin is the pigment that affects hair, skin, and eye color. Because it inhibits the production of melanin, kojic acid can have a lightening effect. Kojic acid also contains some antimicrobial properties. It may help treat acne caused by bacteria in the skin. It may also lighten scars from acne that haven't faded yet.
Carrot provides many health benefits. It is abundantly rich in beta carotene, a powerful antioxidant that enhances cell renewal or cell turnover, helps to clear and clean sweat glands and reduce acne, safeguards the skin against sunburn and damage, and evens out mottled skin tones. Carrots have vitamin A, beta-carotene and antioxidants which provide to the skin. The beta-carotene in carrots help restore skin cells, which help prevent aging. Carrots are also good for eczema, dermatitis, acne and more.
Turmeric is also especially good for your skin. Turmeric may also revive your skin by bringing out its natural glow. You can use it to tackle a range of skin troubles, from an uneven skin tone to acne and from cracked feet to eczema scars. The skin benefits of turmeric basically come from its active compound curcumin and its antibacterial, antioxidant, anti-inflammatory, and antiseptic properties. These characteristics may provide glow and luster to the skin. 
Lemon essential oil is antibacterial, clears your skin, kills harmful viruses and bacteria, and reduces inflammation. Lemon oil is one of several essential oils that can kill harmful bacteria that can grow on your skin.It also has antiseptic, astringent, and detoxifying properties. It can help eliminate blemishes associated with oily skin. Fights against infection causing bacteria and may prevent skin inflammation. It also has protective properties, such as antioxidants, that may brighten and preserve your skin tone. It can also clarify your skin with antioxidants and vitamin C, gently exfoliating dead skin cells that so often become trapped in hair follicle and pores. It is also known to be great for oily prone skin. It has healing properties, you get the added bonus of speedier healing from breakouts and treatment of your acne scars when you use it.
Directions: Wet areas and bar massage the bar of soap in your hands and body until it lathers. Leave on the area for 60 seconds MAX. Wash off and rinse off with water. Make sure not to get the soap in your eyes.
Ingredients: Saponified Olive Oil, Coconut Oil, Shea Butter, Turmeric, Carrot, Lemon Essential Oil, Poppy Seeds, Kojic Acid and Lemon
*ORGANIC
Bar is made from Pistachio Hair and Body Wonders