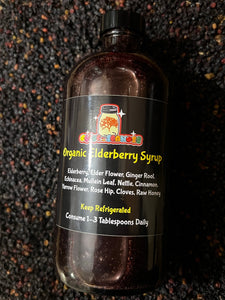 Elderberry Syrup
I will continue to make this Elderberry Syrup a routine order for me due to how helpful these are ingredients are! This Syrup definitely helps with my bad allergies during the spring and summer time. Helps with allergy coughs as well.
Holy Grail
Beats all season from colds allergies and all and inflammation Best all year around for everyone taste pure raw and good.
Elderberry
I purchased this specifically for my husband and the results are extremely wonderful! My husband's energy greatly increased right after taking this liquid Elderberry and it greatly decreased the inflammation he was experiencing as it is filled with several beneficial vitamins and nutrients. He takes it everyday and will continue to do so from now on. This product is far better than the store brand and I am now a lifetime customer!!!
Had to reorder!
This elderberry syrup not only taste great but I feel like it has helped my fiancé with his asthma. It seems to help with the mucus and inflammation. I had to order more! The big bottle.
Buy it!!!
This here has me and my kids feeling so much better we all had colds running nose smh the next day it was so better so fast. Thank you I will be buying again.